Kidney Stone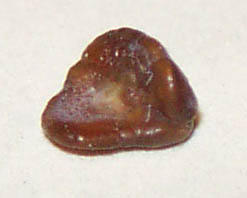 This little 3mm kidney stone caused me hours of the worst pain I have ever experienced.
All started as I was about two miles from work Monday: a sharp pain stabbed me in the back and persisted for about 10 minutes when it subsided until I sat down for break about 10AM. The pain intensified at this point for another 10 minutes when it subsided again until about 11 when I left work to head to my doctors office. I reached the spot where the pain began on the drive in to work when I had to get out of the car and almost vomited along the side of the road. Somehow I was able to make it another 10 miles to the nearest hospital where I entered the Emergency Ward and made to wait about another 15 minutes or more to get a pain injection followed by a CAT scan that revealed the 3mm kidney stone.
They sent me home that afternoon after a good dose of morphine and Torolac. The pain returned with a vengeance that evening and I returned to the hospital where they admitted me for the night. I was discharged early Tuesday morning and felt like I passed the stone but it had not appeared in their strainer. Slight to severe pain returned that evening but I was able to get some sleep until early Wednesday when the intense pain returned and I ended up back in the ER. They took another X-ray (no CAT scan) and said they saw no stone and after giving me a fair dose of morphine sent me home with a prescription for more pain killers.
I never used more than two of the Torolac and avoided the narcotic pills totally this time. I went to work Thursday with only slight tenderness in my kidney and Friday morning I passed the gem pictured above during my morning "P".